Keynote ProPride Session: Seeking Safety and Acceptance

Keynote ProPride Session: Seeking Safety and Acceptance
October 25 @ 12:00 pm

-

1:00 pm
Wednesday, October 25, 2023, from 12 PM to 1 PM EDT – This online event is open to all who wish to register.
Live Captioning will be provided by 3 Play Media Canada.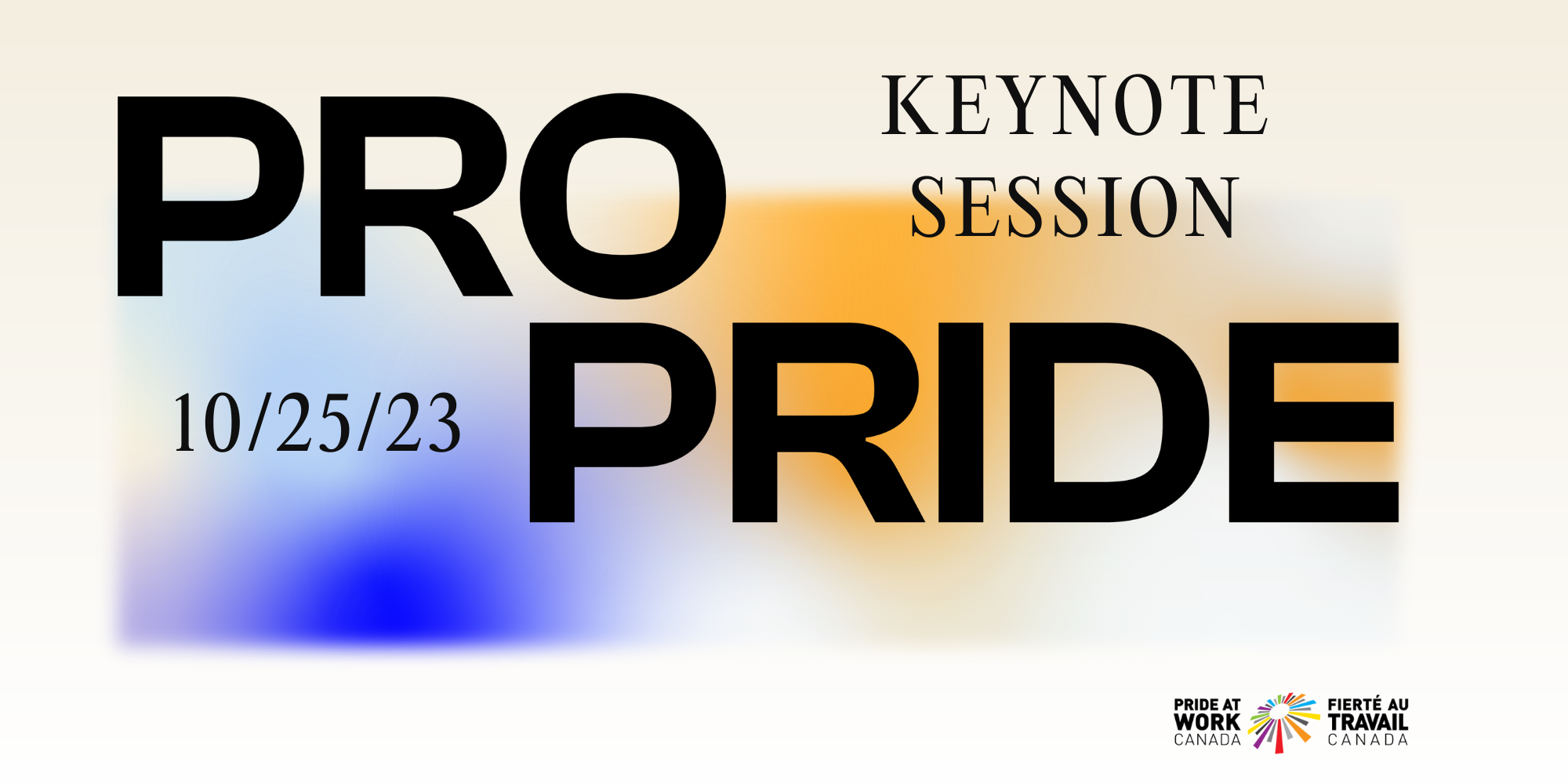 Event Sponsor

Keynote Session: Seeking Safety and Acceptance: The Plight of LGBTQIA+ Refugees and Immigrants Escaping War and Persecution
This keynote session for ProPride attendees and general audience will focus on the challenges and difficulties faced by LGBTQIA+ individuals who have to flee their home countries due to war, conflict, or persecution based on their gender identity, gender expression or sexual orientation.
The presentation will explore the unique vulnerabilities experienced by LGBTQIA+ refugees and immigrants during their journey and resettlement, such as the risk of violence, discrimination, and exploitation. It will also highlight the legal and social barriers when they seek asylum and integration in their host countries.
Furthermore, it will discuss the impact of intersectionality when LGBTQIA+ refugees and immigrants face multiple forms of discrimination and marginalization based on their overlapping identities, such as race, ethnicity, religion, disability, etc. The audience will gain an understanding of the importance for inclusive policies, resources, and support systems that address the specific needs and experiences of LGBTQIA+ refugees and immigrants.
Learning Objectives:
Gaining awareness of the global and regional contexts that contribute to the displacement of LGBTQIA+ individuals and the psychological and emotional impact
Identifying the barriers and gaps in support systems for LGBTQIA+ refugees and immigrants
Discussing potential solutions and best practices for creating safe and welcoming environments
Audience:
ProPride attendees
HR/DEI professionals and ERG members who want to improve their workplaces by addressing immigration and refugee policies
Human rights advocates and activists, policymakers, lawmakers, and government officials are involved in shaping immigration and refugee policies
Social workers, counsellors, and mental health professionals working with refugees and LGBTQIA+ populations
Anyone who wishes to broaden their knowledge and understanding of the intersectionality between LGBTQIA+ rights, migration, and refugee protection
Keynote Speaker:

Hanna Haddad (he/him), Business Development Coordinator, Pride at Work Canada

Hanna (he/him), a graduate of Business Administration, possesses a background in humanitarian and non-profit management. Alongside a bachelor's degree in civil engineering, he has actively engaged with UNHCR during the Syrian war and the subsequent refugee crisis in the Middle East. Hanna played an instrumental role as a social activist, advocating for 2SLGBTQIA+ rights, and served as a life skills coach, focusing on sexual health.

Upon his arrival in Canada in 2021, Hanna promptly began volunteering with local NGOs and community centers, utilizing his passion, knowledge, and experience to support the community. With unwavering ambition, profound dedication, and a firm belief in the imminent attainment of social justice, Hanna emphasizes the importance of aligning ourselves with the right side of history.

Hanna cherishes the power of empathy and embraces hard work as an indispensable element for achieving our personal aspirations and contributing to liberation in all aspects of life.

Accessibility:
Spoken language: English
Live interpretation: English to French
Closed captioning: English and French
Format: Virtual (Zoom in webinar mode)
Engagement type: participants are invited to engage via chat (no audio or video)
Please register below additional accessibility requests. Any questions may be sent to info@prideatwork.ca
About ProPride
ProPride is an innovative event series hosted by Pride at Work Canada, bringing together inclusive employers, 2SLGBTQIA+ thought leaders, and community organizations for engaging conversations, networking opportunities, panel and roundtable discussions. With a commitment to creating inclusive spaces beyond Pride celebrations, ProPride provides a dynamic environment for employees, job seekers, and community members, as well as employers committed to 2SLGBTQIA+ inclusion. Join us for access to the most relevant topics and current research, as we celebrate progress in 2SLGBTQIA+ leadership and inclusion and create a better, more inclusive future for all.
Please register below:
This online event is open to all who wish to register. If you would like to register after the deadline, please send an email to info@prideatwork.ca.