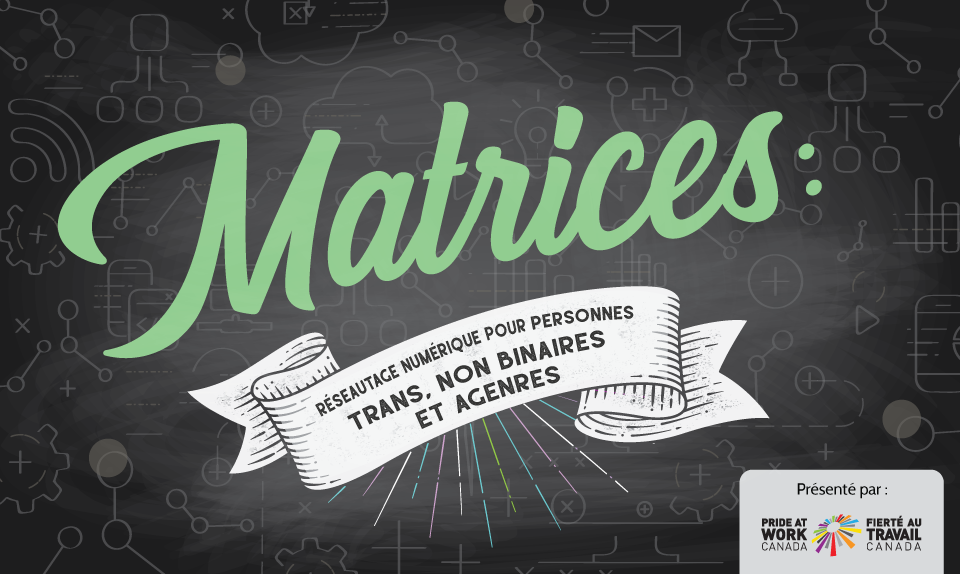 About our Matrices: Trans, Non-Binary & Agender Digital Connect
Matrices: Trans, Non-Binary & Agender Digital Connect is a free networking event for trans, non-binary, and agender professionals and jobseekers! Building on the momentum from the inaugural Toronto Trans, Non-Binary and Agender Networking Breakfast and Rendez Vous: Women x Non-Binary Digital Connect, this one will again bring together individuals across Canada, in a digital way.
Why is this event taking place?
While many events and networks are inclusive of trans, non-binary and agender people there are questions and discussions unique to these community members and their experiences. Pride at Work Canada seeks to create space for professional and job-seeking trans, non-binary and agender people to find support from and make connections with one another. We hope to be responsive to the needs and suggestions expressed by our attendees as this feedback helps to shape future events.
Who should attend?
The purpose of this event is to provide space for folks who identify as trans, non-binary and agender. There is no desire to monitor anyone's gender or create barriers to entry. If you come to this event you will be welcome. While the support of people who identify as allies to trans people and communities is always appreciated please remember that the best support sometimes comes in the form of leaving space for people to connect around their shared identities and lived experiences.
Who can answer my questions about the event?
Please direct questions about this event to Jade Pichette at jade.pichette@prideatwork.ca. You may also contact info@prideatwork.ca with questions about any Pride at Work Canada events and activities.
Upcoming Matrices:
Tuesday, March 28 at 12 PM EDT
Subscribe to our Matrices Newsletter!
To receive email* updates on Matrices, click the following button to subscribe.
* To be added to our newsletter of ALL our events, scroll to the bottom of this page to find the SUBSCRIBE email field.