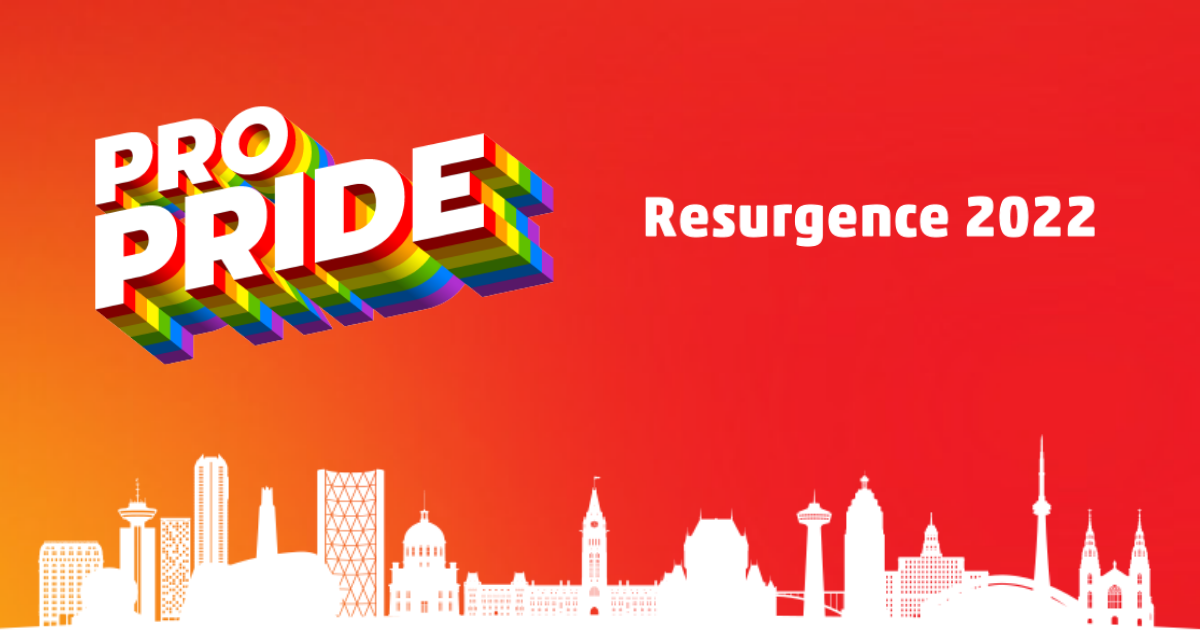 ProPride 2022: Resurgence
After 50 years of Pride festivals, the COVID-19 pandemic brought the festivals and our lives to a time of pause and crisis. The past two years have been a time where existing inequalities have been brought more to the surface. Diversity, Equity, and Inclusion, as well as Belonging, Dignity, and Justice are now needed in workplaces even more.
This is a time of potential where we can rise from the pandemic with new understandings and new actions. It is a time where we can honour the current reckonings around anti-Blackness, reconciliation* and accessibility, while also paying homage to those who built the movements that we now benefit from in our workplaces, communities, and lives. For some, this time has acted as a time of transformation and greater self-knowledge of their sexual orientation, gender identity, and gender expression. We have seen coming outs of many two-spirit, queer, and trans people, and a tuning in to increased community care and mutual aid.
With ProPride 2022: Resurgence, we would like to honour all these changes for professionals, community members, and job seekers in a mix of virtual, hybrid and in-person events. Bringing industry and community leaders to the table we will reflect on the intersections within our workplaces and the innovative solutions that have been developed and can be brought forward. Let us move beyond survival and towards Resurgence.
*Pride at Work Canada works on the traditional territories of the First Nations, Métis, and Inuit. This includes Two-spirit, and LGBTQIA+ Indigenous people. We recognize that there are multiple barriers that impact Two-Spirit and LGBTQIA+ Indigenous people from accessing meaningful, affirming, and inclusive employment. In our work we look to reduce those barriers and, are open to feedback from Indigenous workers, employers, and job seekers in making that a reality.
During ProPride: Resurgence we will be hosting events on the territories of many nations, and communities home to Indigenous, Afro-Indigenous, and Urban Indigenous communities. We recognize the importance of the art, actions, practices and processes of Indigenous Resurgence within Indigenous and Two-Spirit-led movements today that are challenging the historical, present, and continued legacies of colonialism and creating spaces for social, political, and cultural reclamation and renaissance.
Accessibility & COVID-19
Pride at Work Canada believes in the importance of accessibility for our attendees. We have work to do, but have been working internally on improving our accessibility processes. During the 2022 ProPride series, this will include: livestreams of most in-person panels or remarks, masking at our events, and providing captioning on virtual programming.
A return to interacting in person is an opportunity to be mindful of different stages of comfort and health and access needs. To increase access for people with disabilities at our events, we are asking that you stay conscious of distancing and wear a mask. We look to come from a perspective of community care, and encourage you to read more about our practices and the importance of Event Accessibility & COVID-19. If you have any questions about this process, or would like to request an accommodation to make one of our events more accessible to you please email us at info@prideatwork.ca.
Free Hybrid & Online Events
From June to September, our 2022 ProPride Season is open to anyone who would like to learn about some of the most important topics in 2SLGBTQIA+ workplace inclusion. Our hybrid and online events will have live captions in the language of each event.
June
Winnipeg ProPride (hybrid – English)
Friday, June 3, 2022, at 2:30 PM CDT (3:30 PM EDT)
Virtual ProPride: Supporting 2SLGBTQIA+ Resurgence beyond Performative Allyship (only online – English)
Wednesday, June 15, 2022, at 12 PM EDT
Pride Toronto – Affiliate Event 2022
Toronto ProPride (hybrid – English)
Thursday, June 23, 2022, at 5:30 PM EDT
July
Halifax ProPride (hybrid – English)
Thursday, July 14, 2022 – TBA
Vancouver ProPride (hybrid – English)
Thursday, July 28, 2022 – TBA
August
Montreal ProPride (only in-person – French)
Wednesday, August 3, 2022 – TBA
September
Calgary ProPride (hybrid – English)
Thursday, September 1, 2022 – TBA
Member-only events
As part of our member-only programming this summer, we'll continue exploring the ProPride topics and connecting employees of Pride at Work Canada's Proud Partner & Community Partner network to discuss ongoing issues for 2SLGBTQIA+ communities in Canadian workplaces. We will offer live captions in the language of each online event.
July
National Member Webinar (online – English)
Wednesday, July 13, 2022 from 12 to 1 pm EDT
August
Member Workshop (online – English)
Wednesday, August 24, 2022 from 12 to 1 pm EDT
If you're not sure if your employer is one of our partners, please contact us at info@prideatwork.ca.
Virtual ProPride 2020 & 2021
In the last two years, we hosted Virtual ProPride sessions, and you can watch them on our YouTube channel or access their recaps on our blog.