In Case You Missed It: Queer & Trans Women Leading the Way
On June 10, 2020 Pride at Work Canada/ Fierté au travail Canada collaborated with Catalyst Canada to present a panel on the contributions of queer and trans women to workplace inclusion efforts, emceed by Pride at Work Canada's Manager of Programs Jade Pichette. Here are some of the highlights: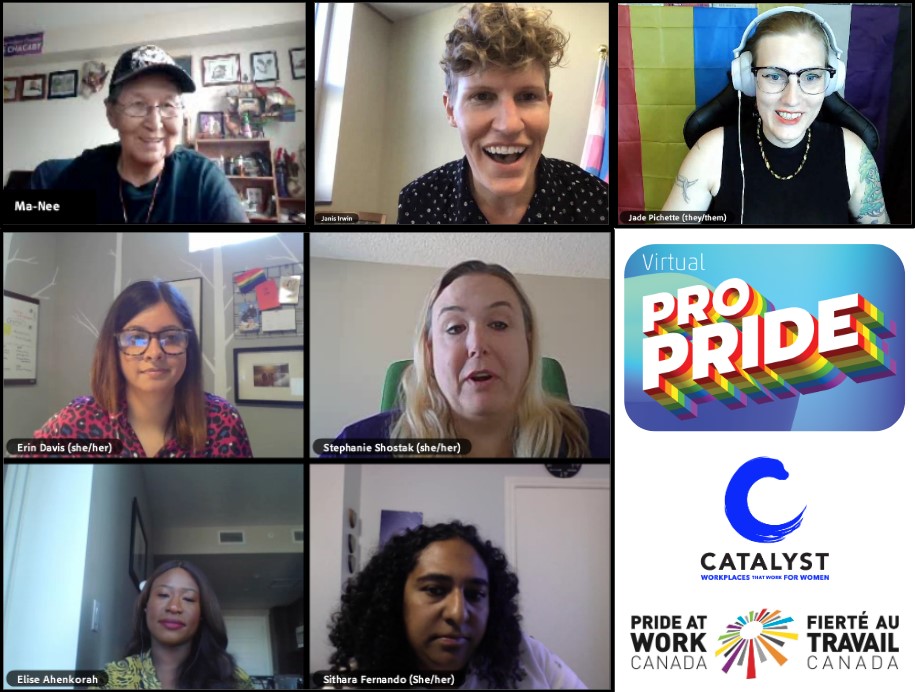 "There is a power within you that needs to be shared with other people" – Ma-Nee Chacaby
Two-spirit Ojibwa-Cree elder Ma-Nee Chacaby opened the session with remarks, noting that it's as important to value the contributions of youth as it is to respectfully listen to elders like herself. She shared personal stories of her own perseverance and encouraged attendees to search within themselves to find the power to make an impact on other people.
Member of the Legislative Assembly of Alberta for Edmonton-Highlands-Norwood Janis Irwin delivered remarks, commenting on her role as Critic for Status of Women, Critic for LGBTQ2+ Issues and the only openly "ML-Gay" in the Alberta Legislature. She spoke about the Rainbow Flag being not only a symbol of Pride, but a beacon of hope for young people who need visible signs of support from employers and governments; both of which often overlook or undervalue the contributions of our community.
Director, Corporate Engagement, Western Canada for Catalyst Canada Erin Davis deftly moderated an insightful panel discussion featuring three outstanding women:
Elise Ahenkorah, Inclusion Strategist and Diversity & Inclusion Specialist, inclusion FACTOR and Sobeys
Sithara Fernando, Environmental Sciences Faculty, Norquest College
Stephanie Shostak, President & CEO, Prism Consulting Services Ltd.
All of the panelists each shared some personal stories to shed light on their decision to focus their careers on diversity, equity and inclusion issues. Elise spoke about how being the first Black member of Pride Calgary's executive committee meant so much to her. She didn't grow up seeing a lot of Black bi women in leadership roles and is happy to now set an inclusive example for people of all identities.
"Be kind and caring to yourself" – Sithara Fernando
Everyone agreed that workplace policies that help employees understand what inclusive behaviors look like are crucial. Sithara noted that people bring their struggles, "personal beefs" and fears, including homophobia, to the workplace. She acknowledged that although queer and trans people may sometimes feel a responsibility to confront people about their hurtful words and actions, that burden ultimately rests with the employer. "It's not your job to deal with someone else's garbage" was impactful enough that moderator Erin repeated it to the delight of folks in the chat.
When the conversation turned to the issue of allyship, Stephanie explained how allies can play a pivotal role in making sure each message comes from the best possible speaker. She talked about how hearing about the lived experiences of an oppressed group can often be much more valuable than an ally speaking on their behalf. Her example? Having trans people speak about their desire to have the same rights an opportunities as cis people amplifies the voices that need to be heard most in discussions about legislation related to gender identity and gender expression.
There was lots of chat among attendees. Everyone was inspired by the opening words from Ma-Nee Chacaby and Janis Irwin, remarking that it helped get them in the right headspace for the panel discussion. Many attendees pointed out the incredible diversity of experiences and backgrounds present on the panel and how nice it was to connect with each other while working from home. Feel bad that you missed out on the action? Never fear! Email info@prideatwork.ca for a link to a recording of the session or access our YouTube channel.