Inclusive Workplace and Supply Council of Canada (IWSCC)


Inclusive Workplace and Supply Council of Canada
520 Coronation Drive
Scarborough, Ontario M1E 5C7
647 606 8382
416 287 0060
info@iwscc.ca
Using the power of diversity to bring together both sides of the supply chain. Canada's Official Diverse Supply Council for Disabled and Veteran-owned Businesses
What We Do
Inclusive Workplace and Supply Council of Canada - IWSCC
is a non-profit organization committed to making inclusion and diversity foundational business practices in Canada. We achieve this through three objectives:
Connecting Certified Diverse Suppliers with procurement teams at large corporate, public
Creating and educating on best practices for inclusive workplaces and inclusive procurement processes
Conducting research projects to advance understanding of disabled and veteran entrepreneurs, inclusion, and diverse procurement in Canadian businesses.
Who Are Diverse Suppliers?
When we think of diversity-owned businesses, women-owned, LGBTQ-owned, and minority-owned often come to mind. Two groups that have been historically left out of the diversity conversation are Veterans and Persons with Disabilities. Our mission at the IWSCC is to amplify the voices of Disabled and Veteran business owners and empower them to grow their operations by becoming
Certified Suppliers
.
What Makes Diverse Suppliers So Valuable?
Having a diverse supply chain adds to a business's bottom line and proves that inclusion efforts are more than just a mission statement. Here are four key benefits of incorporating diverse business owners into your supply chain.
Outside the box thinking When you live outside the box, you have to think outside the box. Coming up with innovative solutions is a skill that diverse suppliers have learned through overcoming obstacles every day.
A reflection of the community If you're trying to serve customers, you first need to understand them. Diverse suppliers bring a perspective to the table that is representative of Canada's diverse population.
Agile and efficient operations Persons with disabilities and Veterans have one important skill in common: getting the best possible output with the fewest available resources. Their ability to adapt quickly makes the road to success much smoother.
A signal to Canadians Diversity should extend beyond employees to third parties and contractors outside of the organization. If your company is serious about their diversity and inclusion efforts, hiring diverse suppliers is one way to prove it.
The IWSCC certifies diverse suppliers
that fit the criteria below and have the operational capacity to be a supplier for our corporate members.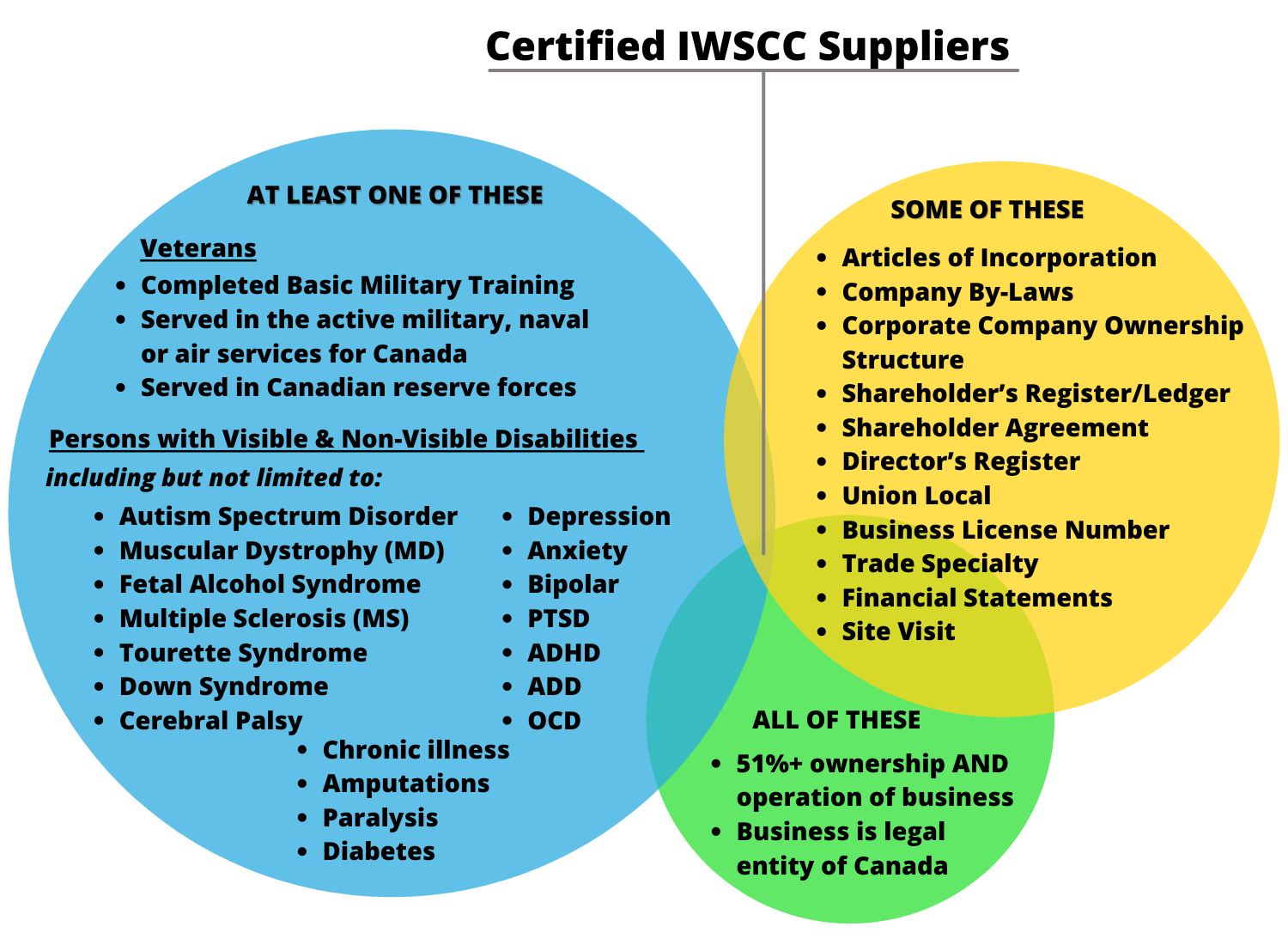 Please
contact us through our website
or social media platforms to find out more. We'd love to work with you.