Behind the scenes: Our video animation project
By Luis Augusto Nobre – Marketing and Communications Coordinator
Teamwork is one of the most important words to achieve success when we work in a group. And I am happy to say that I had the pleasure of working on a great project with such amazing people. For five months, some of us at Pride at Work Canada/Fierté au travail Canada and some students and professors at Algonquin College were a team creating and developing the video animation that we launched in June.
The video above, available in English and
in French
, is the result of the final project developed by students of the
Interactive Media Design Diploma
. Every semester, the Algonquin College Office of Applied Research, Innovation & Entrepreneurship invites companies and non-profit organizations to apply to be part of the Interactive Media and Design project, giving them the opportunity to support students to work on professional projects before their graduation.
Algonquin College has been one of our Proud Partners since July 2018. Because of our relationship with their staff members, Jade Pichette, our Manager of Programs, saw the call to apply for this project and tagged me in a post on Linkedin in November 2020. It would be a great opportunity to have an institutional video to promote Pride at Work Canada and to work directly with one of our current partners on a project.
I sent the project application for two videos (one institutional and another one with tips to create inclusive workplaces and both with French versions), which was selected for the Pitchfork Session in December 2020. I presented our organization and the video ideas to David Somolon and John Kozodoj, who were excited about the kind of work that we do and to know more about our partnership with Algonquin College. After the Holidays, David emailed me saying that we were one of the selected organizations.
While I was developing our video ideas before presenting them to the group of students who would lead and execute the project, our Manager of Business Operations Sandeep Nair joined Pride at Work Canada. Because he has some background in animation production, we revised and presented the initial project to Fernanda Granja Landim, David Aglukark, Ilya Shpylka, Alexandre Bracq, Zechao Lin, and Xin Chen, the dedicated students designated to develop our video. Fernanda and I were the team leaders representing both organizations.
From January to April, we had weekly meetings to create and explore the concepts behind the videos. Because of execution time and calendar conflicts on both teams, we decided to develop only the institutional video. I wrote the script with Sandeep's and Jade's support while the students worked on some concepts and suggestions.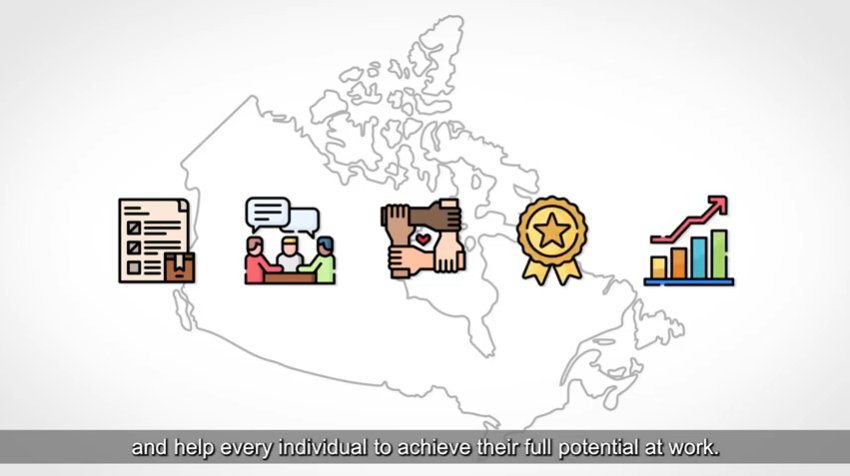 We also checked with our Board of Directors and staff if they would like to be part of the project and do the voice-over recording. Our Chair Chris Forward volunteered to record the English version, and our Programming Assistant, Quebec Florence Gagnon volunteered to record the French version. Florence also helped us to revise the French script. In parallel, the project team worked to find the background music, choosing a song that gives the epic approach when combined with the voiceover and the other sound effects.
The video project was moving forward pretty quickly, and we had the final presentation in April 2021. I was so touched by the students' work and dedication that I was speechless in our last meeting. Some final suggestions to adjust the final draft, and we were prepared for the final presentation to our staff team and members of our Board of Directors and Marketing Committee. David Solomon also invited some of Algonquin College's staff members.
During the final presentation, everyone had the opportunity to speak about the video animation process, and we watched the English and French versions of the video. One comment that still resonates with me came from our Executive Director Colin Druhan. Colin said that it is part of his personality to share comments and suggestions to improve any kind of work; however, he was thrilled with the final results, approving the videos without any extra comment. Colin also shared his appreciation for the teamwork and the partnership with Algonquin College.
A few days later, one of the IMD students contacted me and volunteered to work on some finishing touches and visual identity adjustments. After receiving the final version in May, we launched the videos in June as part of our 2021 Pride celebrations. Two months later, we are still mesmerized by the quality of the videos created by the Algonquin College's students and their dedication to help us to promote our services and LGBTQ2+ inclusion.
Animation production details:
Project and script: Luis Augusto Nobre, Marketing & Communications Coordinator at Pride at Work Canada/Fierté au Travail Canada
The team responsible for the execution of the Project: Alexandre Bracq, David Aglukark, Fernanda Granja Landim, Illya Shpylka, Xin Chen, and Zechao Lin
Professor responsible for orientation: John Kozodoj
Meeting Facilitator from Algonquin College – ARIE: David Solomon
Technical advice: Sandeep Nair, Manager of Business Operations at Pride at Work Canada/Fierté au Travail Canada
Voice-over talent – French version: Florence Gagnon, Programming Assistant at Pride at Work Canada/Fierté au Travail Canada
Voice-over talent – English version: Chris Forward, Chair of Pride at Work Canada/Fierté au Travail Canada's Board of Directors
The graphics and the vector images presented in the video belong to Freepik, Eucalyp, Surang, Photo3idea_studio, and Icongeek26
The background music and sound effects were provided by Mixkit.