In Case You Missed It: Beyond Inclusion Towards Belonging
On June 9th, 2021, Pride at Work Canada in collaboration with the Business + Higher Education Roundtable presented Virtual ProPride: Beyond Inclusion Towards Belonging. Emceed by Southern Alberta Institute of Technology's Educational Developer and member of Pride at Work Canada's Board, Terri Eklund (she/her), this virtual session was the first of Pride at Work Canada's 2021 Virtual ProPride Series and sponsored by Amazon Canada. Here are some of the highlights:
"
We cannot acknowledge the land without acknowledging the First People that were here, and including those Gender-Diverse, Non-Binary, and Trans Indigenous people that have existed on this land long before anyone else did.
"
Elder Laureen Blu Waters: Istchii Nikamoon
Elder Laureen (Blu) Waters: Istchii Nikamoon (they/them), started the conversation with remarks. Elder Blu is a Two-Spirit person, Wolf Clan, a mother of three, a grandmother of three, a Sun Dancer, and a Pipe Carrier. They opened with key values to guide the ways in which we should all strive to engage with one another when we gather.
Pride at Work Canada's Manager of Business Operations, Sandeep Nair (he/him) moderated a panel featuring three inspiring thought-leaders:
Percy Lezard

(they/them), Mnimcelx, Critical Sqilxw, Clinician, Researcher, Scholar, and Assistant Professor in Indigenous Studies at Wilfrid Laurier University, 

Dr. OmiSoore H. Dryden

(she/her/they/them), James R. Johnston (JRJ) Chair in Black Canadian Studies, Associate Professor in the Faculty of Medicine at Dalhousie University, and Co-President, Black Canadian Studies Association,

Sonia Sangha

(she/her), Global Equality, Diversity and Inclusion Leader, IKEA.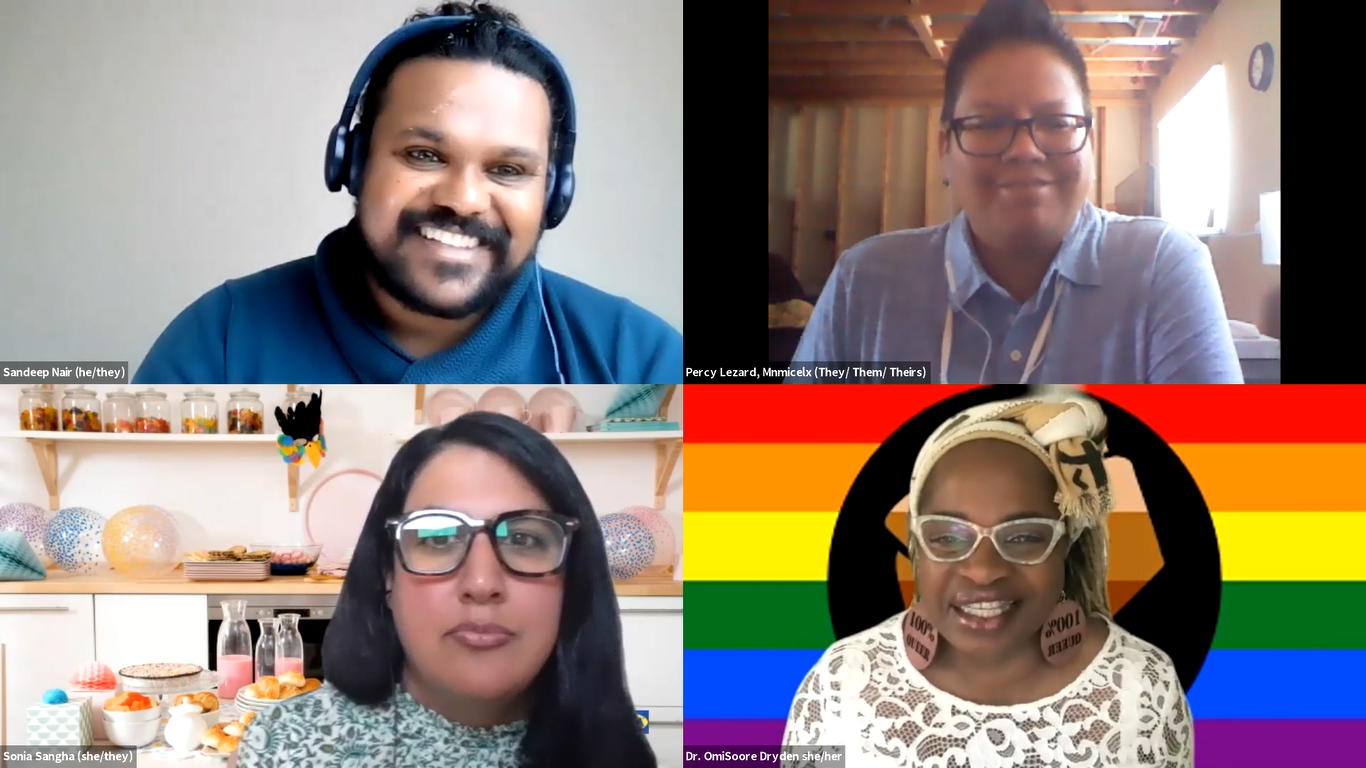 WARNING: Some of the content in this webinar and summary can be activating or triggering. Mention of: Indian Residential Schools, Murder, Anti-Indigenous and Anti-Black violence, Islamophobic violence, and Homophobic violence.
It is important to recognize the context in which this panel takes place and ways in which historical, current, and ongoing events shape the discussion. Public acknowledgement of the remains of 215 Indigenous children found by Tk'emlúps te Secwépemc First Nation at the former Kamloops Indian Residential School,  the murders of Chantel Moore, Barbara Kentner, Joyce Echaquan, and members of the Afzaal family, as well as the violent attack on David Gomez at a historically LGBTQ2+ beach, and the 58 long-term boil water advisories in place in Indigenous communities across the country were all acknowledged by the panelists and emcee. The impacts of the Indian Residential School system, of ongoing genocide, systemic oppression, racism, and colonial violence continue to harm Indigenous, Afro-Indigenous, Black and all people of colour across Turtle Island (now known as North America).  
June marks the beginning of  Pride Month in Canada as well as National Indigenous History Month, including National Indigenous Peoples Day on June 21st. Pride as we now know it, resulted from the resistance led by queer and trans people of colour in response to police and government repression, systemic violence, homophobia, transphobia and racism which continues to this day. We must be mindful that although Pride can be a time for joy and celebration, it must also hold space for grief, trauma, and revolution.
Nair started the discussion by inviting the panelists to share their thoughts on the difference between inclusion and belonging. Dr. Dryden spoke of how belonging, unlike inclusion, comes with a commitment to unreserved accountability and self-reflection, and to the creation of a community that recognizes the distinct and intersectional experiences of all individuals. Sonia Sangha reflected on how inclusion and belonging are often used interchangeably, but reminded us that there is a significant difference in the experience and feeling of belonging that organizations and individuals must strive towards. Lezard shared numerous examples of ongoing colonial violence and white supremacy and the ways in which their impacts obstruct inclusion and belonging for Indigenous, Afro-Indigenous and Black Queer people. 
"
It just can't always fall on Indigenous people to come and smudge away Settler-Occupier guilt, and occupation, and extraction.
"
Percy Lezard 
When invited to share teachings from Indigenous communities with respect to creating spaces of belonging, Lezard shared a historical overview of Indigenous labour invested into guiding respectful relations from the Red Paper in 1970, the Royal Commission on Indigenous People in 1996, the Truth and Reconciliation Commission of Canada in 2015, and the National Inquiry into Missing and Murdered Women, Girls and Two-Spirit people from 2019-2021. 
"
Diversity [and] inclusion captures your head, and belonging really captures your heart.
"
Sonia Sangha
Sangha shared IKEA's approach to addressing inclusion and belonging as a large international retailer with over 170,000 employees across 30 countries. She spoke to IKEA's strong Human Rights policies and International Codes of Conduct as well as its Equity Plan which was created in collaboration and consultation with 30 markets across the globe to ensure the needs and responsibilities of each market, community, and employee were woven into the shared plan. 
"
If we're considering our inclusion into systems that perpetuate harm, hold up harm, continue colonialism, continue the harm around Anti-Black racism, then what exactly are we being included in, and why is that a measure of success?
"
Dr. OmiSoore H. Dryden
Dr. Dryden emphasized the utility of a harm reduction model for companies invested in effectively addressing systemic racism, homophobia, transphobia and discrimination in the workplace. Dr. Dryden emphasized how acknowledging the harm and working to reduce harm alongside the establishment of strong anti-colonial policies and protocols can create the infrastructure for meaningful accountability and thereby belonging.
There was lots of love for the panelists in the chat, and gratitude for their gifts of personal perspectives and experiences. Their invaluable reminders and reflections included calls to action for attendees to take back to their workplaces in order to cultivate spaces belonging for all employees.  In closing, Elder Blu reminded us of the roles and responsibilities of allies and the importance of reciprocity, humility, and kindness in all our relations so that we may cultivate meaningful spaces of belonging.
Calls to Action:
Acknowledge that discrimination happens in the workplace

Understand the ways in which discrimination such as homophobia, transphobia, and racism are rooted in larger systems of oppression  

Be aware of and responsible for intersecting forms of harm, harassment, discrimination, and exlusionary behaviour in the workplace

Acknowledge the ways in which your workplace, institution, or sector may contribute to or uphold systems of oppression

Actively disrupt those systems of oppression

Self-reflect and commit to unreserved accountability in workplace relationships

Take responsibility to self-educate and actively uphold and apply teachings from Indigenous, Afro-Indigenous and Black communities, individuals, and nations

Acknowledge Two-Spirit people at the front of the LGBTQIA+ acronym: 2SLGBTQIA+
Did reading this make you wish you had attended the event? Never fear! Email info@prideatwork.ca for a link to a recording of the session or access our YouTube channel.
Virtual ProPride: Beyond Inclusion Towards Belonging – Captioning Transcript