Jazz is a regional airline; operating approximately 800 flights daily to more than 80 destinations across North America on behalf of Air Canada. Jazz also offers private charters throughout North America and in 2010 began operating Boeing 757 aircraft on behalf of Thomas Cook Canada Inc. during the winter season from Canadian gateways to various sun destinations.
COMMITMENT TO DIVERSITY
Three of the seven core corporate values at Jazz are "acting with integrity", "respecting diversity" and "celebrating excellence". For Jazz, diversity is not a program, it is core to the makeup of their people and business. In order to be a leader in their industry and to have a competitive advantage, Jazz celebrates differences and values the uniqueness that each individual has to offer. By optimizing the strengths of their employees, they believe they will ultimately strengthen their team.
VISION FOR THE FUTURE
It is the hope of Jazz that through positive partnerships such as the one with Pride at Work Canada, they will strengthen their culture with inclusion ensuring that all of their employees feel that they can be themselves at work. Jazz strives to be an employer of choice for individuals from all walks of life. As Jazz continues to build corporate diversity they hope to equally diversify their employees to reflect the many communities that they serve. Jazz acknowledges that the power driving their success is in their people, so they want to ensure each individual feels important and valued.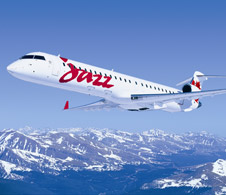 We are stronger through diversity. We celebrate the individual differences and unique perspectives that combine to contribute to our success.
Joe Randell
President & CEO