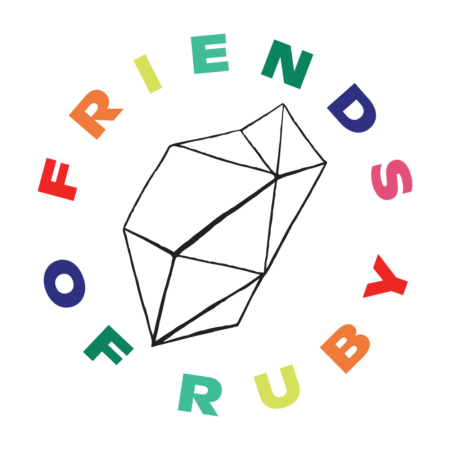 www.friendsofruby.ca
489 Queen Street East (Lower Level – LL01) Toronto, ON, M5A 1V1
Info@friendsofruby.ca
OUR VISION
A world where all lesbian, gay, bisexual, transgender, queer, intersex, and two-spirit young people feel validated, involved, and empowered to lead healthier lives.
OUR MISSION
Friends of Ruby is dedicated to the progressive well-being of 2SLGBQTIA+ youth (aged 16-29) through mental health services, social services, and housing. Our approach is comprehensive, involving mind, body, and community – wherever you are on your personal journey.
OUR VALUES
We believe that every 2SLGBTQIA+ youth is like a ruby – unique, precious and worthy of care.
People-focused: We value the dignity, strengths, and contributions of all individuals.
Respect: We are validating, respectful, and welcoming. We exercise diversity, inclusion, and equity through our interactions and practices.
Accountability & Transparency: We strive to build and sustain trust with our partners. We operate with integrity and sustainability with the highest possible ethical standards.
Continuous learning: We promote a culture of adaptability, embracing change and opportunity, encouraging and motivating development, and always seeking to improve.
Collaboration: We work together and foster strong, trusting relationships with our community partners, youth, staff, contractors, and volunteers.
SERVICES
Mental Health Services:
We know that asking for mental health support can be intimidating.
That is why every counsellor at Friends of Ruby is a member of the 2SLGBTQIA+ community and adheres to a trauma-informed, harm-reduction, and anti-oppressive approach.
Our services encompass both individual counselling and group sessions, which can be conducted in-person, via video call, or over the phone.
Here are some of the things you might talk about with your counsellor:
Relationship challenges
Emotional dysregulation
Building coping strategies
The impacts of trauma
Experiences of depression and anxiety
Exploring gender identity and sexuality
Disordered eating
For more information and to speak to an intake worker, register online or visit the Friends of Ruby Drop-In Centre.
CASE MANAGEMENT & PRACTICAL SUPPORT
Do you need help finding an affordable place to live or emergency housing, help with your resume, changing your ID, accessing gender affirming health supports, or getting a referral to an inclusive and accepting doctor?
Friends of Ruby's 2SLGBTQIA+ Case Workers understand the challenges you are facing and are ready to help. You can meet with a case worker to help you develop life skills, reach your goals, and get whatever support you need.
They can help with income support programs such as Ontario Works (OW), Ontario Disability Support Program (ODSP), and Ontario Student Assistance Program (OSAP), guiding you through each step as you explore both governmental and practical supports.
Our counselling and case management services can be done virtually, over the phone, and in-person.
For a complete list of supports, see Case Management.
YOUTH DROP-IN CENTRE
Want to make new friends, take part in a support group, make a craft to support your mental health, or grab a bag of groceries for the week?
The Friends of Ruby Drop-In Centre at 489 Queen St. East is a welcoming and supportive space in downtown Toronto for 2SLGBTQIA+ youth aged 16-29 to create community and access free resources and services. We are open Monday to Friday from 11 AM to 6:30 PM.
Drop by and take part in:
Accessing groceries and prepared meals
Group programs to build mindfulness
One-on-one sessions to build your resume or improve your study skills
Games nights, Drag Race viewing parties, art activities, and more
We also have a computer lab with free Wi-Fi, phone and fax services, harm reduction kits (hormone injection kits, safer self-harm kits, safer sex kits, naloxone etc.), personal hygiene kits, a book library, seasonal clothing, laundry facilities, and much more.
For the Youth Programming Schedule, check out Drop-In Programs and follow us on Instagram @friendsofruby.ca.
FRIENDS OF RUBY HOME
The Friends of Ruby Home is a transitional house built specifically for the needs of 2SLGBTQIA+ youth who are at risk and need to find long-term, secure housing.
At the Friends of Ruby Home, you are a welcome part of a community, and friends are ready to celebrate who you are. We supply everything you need on your path towards independent and empowered living. More than a roof over your head, it is a place for you and your pet to call home.
While living at the Home, you can take part in programs about cooking, cleaning, financial literacy, and professional mentorships. You can also access free mental and physical health services like crisis intervention, counselling, health check-ups, and enjoy physical activities.
If you or someone you know needs housing support, please email us at housing@friendsofruby.ca or come to the Drop-In Centre and set up a meeting with a Case Manager.