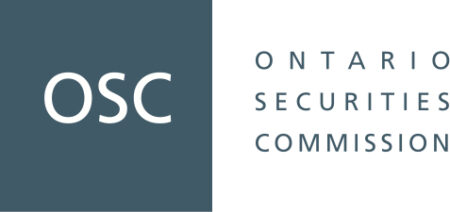 City : Toronto
Category : See Posting
Industry : Financial Services/Government
Employer : Ontario Securities Commission
Procurement Specialist
Financial Management and Reporting Branch
Full-time Contract (12 months)
File #22-73
The Ontario Securities Commission (OSC) is the statutory body responsible for regulating Ontario's capital markets in accordance with the mandate established in the provincial Securities Act and the Commodity Futures Act. The mandate of the OSC is to provide protection to investors from unfair, improper or fraudulent practices, to foster fair, efficient and competitive capital markets and confidence in the capital markets, to foster capital formation, and to contribute to the stability of the financial system and the reduction of systemic risk. This mandate is performed through policy, operational, adjudication and enforcement work. The OSC also contributes to national and global securities regulation development
The Financial Management and Reporting Branch provides financial management and analysis, reporting and treasury and procurement and contracts services to allow the OSC to continue carrying out its regulatory responsibilities. Assurance over financial reporting is provided through the design and maintenance of effective controls.
The Procurement Specialist role is an exciting opportunity to utilize a combination of public procurement, strategy, analysis, and technical knowledge as we continue to increase the strategic focus of the procurement team as a value adding partner.
Reporting to the Manager, Procurement, the Procurement Specialists responsibilities will include:
Execute procurement requests from members of the organization and providing consultation and advice on procurement and process in a manner that is consistent with OSC's Procurement Policy and applicable laws, trade agreements and Government directives.

Drafting procurement documents such as RFx documents as well as evaluation criteria, response templates and evaluation instructions.

Supporting clients in the development of their procurement scope and providing guidance throughout the procurement process.

Contribute to the development and implementation of continuous improvements of OSC's procurement process, framework, and policies.

Managing the tendering and evaluation processes, including price scoring, consolidation of scores, award notifications and vendor debriefs.

Maintaining records relating to procurement activities.

Working with team to develop and action an annual Procurement Plan.

Supporting annual and ad hoc reporting to Ontario Government on procurement activity.

Providing assistance as needed for internal and external audits.

Recommending procurement policy changes as needed.

Assisting in the development and reporting of key area metrics related to Procurement.

Providing input and recommendations on process optimization and improvements to the procurement and contracts process and conducting quality control functions, as directed.
What do you need to be successful in this role?
A minimum of three year of experience as a procurement professional for a public procuring agency, or equivalent relevant experience as a project manager with experience in drafting, developing RFx documents in support of information technology and consulting services.

Post-Secondary Degree in Business Administration, or Commerce, with an emphasis on Strategic Sourcing / Procurement, or relevant discipline.

Ability to communicate effectively, both verbally and in writing, with internal and external customers/suppliers at all organizational levels.

Possess a high level of attention to detail and accuracy.

Have a strong work ethic and organizational skills to meet deadlines.

Be internally motivated and able to work proficiently both independently and in a team environment.

Proficiency in MS Office (Word, Excel, PowerPoint.
Grow your career and make a difference working at the OSC.
Apply online by Thursday October 6, 2022 at 11:59 pm.

 
**Internal applicants: please apply using the Taleo profile created with your OSC email address**
The OSC is committed to diversity and providing an inclusive workplace. It is our priority to ensure employment opportunities are visible and barrier-free to all under-represented groups including but not limited to, Indigenous, Black and racialized groups, people with disabilities, women and people from the LGBTQ2S community, to achieve an employee demographic profile reflective of the demographic profile of Ontarians.
The OSC is a proud partner with the following organizations:   BlackNorth Initiative ,   Canadian Centre for Diversity and Inclusion ,  and   Pride at Work Canada
If you require an accommodation during the recruitment process, please let us know by contacting our confidential inbox   HRRecruitment@osc.gov.on.ca .   Visit  Accessibility at the OSC    to review the OSC's policies on accessibility and accommodation in the workplace.