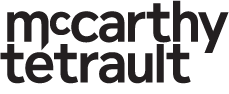 McCarthy Tétrault is a leading Canadian law firm delivering strategic, innovative solutions to clients in Canada and around the world.
With offices in Canada's major commercial centres, New York City, and London, U.K., our lawyers work seamlessly across practice areas and regions. We advise on all aspects of business law, litigation, tax, real estate, and labour and employment law. We also work with all levels of government to develop laws and regulations that shape the Canadian market, in the industries driving Canadian and global economies.
Through our focus on delivering innovative client services and solutions, we are leading advancements in the legal profession and driving value for clients through project management, creative staffing solutions, and providing alternative fee arrangements. Our award-winning MT>Divisions, a group of complementary business lines, supports clients with scalable, rapid-launch solutions in business, data, technology management and other on-demand resources.
OUR VALUES
Our dedication to our Firm's values supports our mission and enables our clients to achieve their business objectives. These values, listed below, are intrinsic to who we are as a law firm and as a member of the global business community.
Clients are at the centre of everything we do.
Our people are our greatest asset.
Our One Firm culture is built on professional excellence, collaboration, innovation, thought leadership and entrepreneurialism.
Inclusion in all its forms is embraced, and we help our people develop to their full potential.
COMMITMENT TO DIVERSITY
INCLUSION NOW – WEAVING DIVERSITY INTO THE FABRIC OF OUR FIRM
McCarthy Tétrault has an innovative and ambitious plan to accelerate our vision to be the firm of choice for clients and talent. Our program is called Inclusion Now, and it is a recognition of our Firm's commitment to our people, our clients, and our communities.
Weaving together these longstanding values — diversity, inclusion, and corporate social responsibility — Inclusion Now informs every aspect of who we are as a law firm and what we do.
A first-of-its-kind in the Canadian legal profession, McCarthy Tétrault has built an Inclusion Office dedicated to diversity, inclusion, and corporate social responsibility and has appointed a full-time Chief Inclusion Officer who will guide our plan and ensure that we are taking our corporate citizenship to the next level. Inclusion Now is not only a key Firm priority, it's an investment — in our people, clients, and communities. We are the only law firm to have the equivalent of four resources dedicated to our diversity initiatives, including a part-time Senior Legal & Strategic Advisor on Indigenous Initiatives, another first in the Canadian legal profession.
Recognizing that our efforts to create an inclusive workplace and an inclusive society are mutually reinforcing, Inclusion Now combines diversity, inclusion, and corporate social responsibility into one plan. Applying a diversity and inclusion lens to our corporate social responsibility efforts yields opportunities for increased engagement of our people and a deeper and more focused impact in our communities.
Inclusion Now is an action-oriented plan centered around four pillars:
Leadership: We are promoting our goals through active and authentic leadership, weaving responsibility, accountability, and transparency throughout the Firm.
Talent: Creating a workplace that represents the diversity of our profession and country means enhancing the inclusiveness of our policies and practices and removing structural barriers.
Culture: To ensure all of our people feel welcome and valued within our workplace, and to normalize conversations around EDI, we have developed a comprehensive educational program for all members of our Firm. Education is the driving force behind our efforts to create a more inclusive culture.
Community: We recognize that we cannot do this work alone. We are working to deepen our impact externally by partnering with and supporting equity-seeking groups.
VISION FOR THE FUTURE
Given our commitment to equity, diversity and inclusion, we have been named one of Canada's Top 100 Employers and Best Diversity Employers for nine years running. We are very proud to have been named "Diversity Initiative of the Year" at the 2020 and 2021 Canadian Law Awards.
We know there is more to do. We named our strategy Inclusion Now because we know we simply can't afford to wait. Through Inclusion Now we aim to build a Firm and profession that provides equal access to opportunity for all, and a culture of belonging, where no one has to cover parts of themselves to be successful.
To learn more about Inclusion Now, visit our website here.