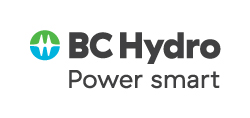 BC Hydro is the largest provincial Crown corporation in British Columbia and generates and provides clean, reliable, and affordable electricity safely to 95% of the population, or 4 million people.
Commitment to diversity
As a Crown corporation owned by the people of British Columbia, we want our workforce to reflect the diversity of our province. We know that a diverse and inclusive workplace will help us work safely, make better decisions, and ultimately will help us better understand and serve our customers.
We recognize that we're one team made up of people with diverse backgrounds, experiences and ideas. Each one of us is accountable to listen to, learn from, and value each other's perspectives.​ Our commitment is detailed publicly on our website in our statement of respect, inclusion and diversity.
BC Hydro's Pride Network is one of five employee-led networks who help us understand emerging issues, systemic barriers or gaps in our systems, processes, and practices. The purpose of the Network is to provide a safe, inclusive space, for employees and contractors to seek guidance, support, mentoring, coaching, and leadership on LGBT2Q+ related matters. It provides opportunities for members of the LGBT2Q+ community and their allies to connect, network, share experiences, and build relationships. The Network proactively drives BC Hydro's policies, programs, and culture, with a goal of creating a workplace where everyone can bring their authentic selves to work. Its members also advocate and provide BC Hydro with a forum for consultation on matters of interest that affect the LGBT2Q+ community internally and externally.
Vision for the Future
David Wong is the Executive Sponsor of BC Hydro's Pride network. "I'm proud to be the Executive Sponsor of our Pride Network. The leaders of this network have guided us, educated us, helped us push back barriers and encouraged us to acknowledge our blind spots. Their efforts led to BC Hydro's participation in PRIDE celebrations, our acknowledgement of the Day of Transgender Remembrance, the inclusion of personal pronouns in our email signatures, and many other initiatives to expand the acceptance of all gender identities."
Our partnership with Pride at Work Canada is important to us. We want to share our experience and learnings with other leading organizations and engage in dialogue on the current issues facing LGBTQ2S+ Canadians in the workplace.
Our vision for the future is to provide all employees with a workplace where everyone is treated with dignity and respect, where diversity is actively celebrated, and all employees are included and feel that they belong.
---
David Wong
Executive Vice-President, Finance, Technology, Supply Chain & Chief Financial Officer
BC Hydro