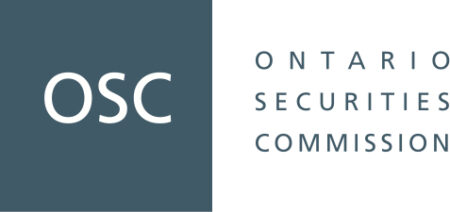 City : Toronto
Category : See Posting
Industry : Financial Services/Government
Employer : Ontario Securities Commission
Senior Legal Counsel
Market Regulation Branch
Permanent Full-time
File #23-06
Who We Are
The Ontario Securities Commission (OSC) is the statutory body responsible for regulating Ontario's capital markets in accordance with the mandate established in the provincial Securities Act and the Commodity Futures Act. The mandate of the OSC is to provide protection to investors from unfair, improper or fraudulent practices, to foster fair, efficient and competitive capital markets and confidence in the capital markets, to foster capital formation, and to contribute to the stability of the financial system and the reduction of systemic risk. This mandate is performed through policy, operational, adjudication and enforcement work. The OSC also contributes to national and global securities regulation development.
We offer an inclusive, diverse, fair and flexible work environment, and take pride in our challenging and rewarding work.
What We Do
The Market Regulation (MR) Branch is responsible for the oversight of market infrastructure entities (including marketplaces, self-regulatory organizations (SROs), and clearing agencies) as well as policy development relating to market structure and clearing and settlement.
The Opportunity
The Market Regulation Branch is currently seeking a Senior Legal Counsel to join our Markets Oversight team. You will be primarily involved in the review of new applications and the ongoing oversight of crypto asset trading platforms and their operation as marketplaces and/or clearing agencies in Ontario, including making recommendations with respect to how they are complying with Ontario securities laws and applicable authorization orders.
Review of applications to approve crypto asset trading platforms engaging in marketplace and/or clearing agency activities;

Work and strategize to contribute to the ongoing oversight program for crypto asset trading platforms;

Coordinate and collaborate with New SRO on issues impacting crypto asset trading platforms;

Research, analyze and make recommendations on policy responses to emerging issues impacting crypto asset trading platforms;

Monitor developments related to the regulation of crypto asset trading platforms in other jurisdictions and any potential impact or issues to consider.
Qualifications for Success: 
Membership in good standing with the Law Society of Ontario.

A minimum of 8 years practical experience in Canadian capital markets, financial services and/or securities regulatory environment.

Superior ability to conduct business-related research, analyze complex problems and develop creative recommendations that consider substantive or material issues and their impact to capital markets.

Superior understanding of the operation of crypto trading platforms and related regulatory requirements

Superior understanding marketplaces and regulated entities.

Demonstrated ability to strategically assess the impact of various regulatory actions and balance regulatory objectives with practical business considerations.

Demonstrated ability to organize and manage multiple projects to meet deadlines.

Excellent written and verbal communication skills that demonstrate your ability to communicate clearly, concisely and persuasively.

Very strong interpersonal and teamwork skills.







Grow your career and make a difference working at the OSC!
Apply online by June 14, 2023 at 11:59 pm EST.
**Internal applicants: please apply using the Taleo profile created with your OSC email address**
We thank all applicants for their interest in the Ontario Securities Commission. We will contact those selected for an interview.
The OSC is committed to diversity and providing an inclusive workplace and providing accommodation in accordance with the Accessibility for Ontarians with Disabilities Act and the Ontario Human Rights Code. It is our priority to ensure employment opportunities are visible and barrier-free to all under-represented groups including but not limited to, Indigenous, Black and racialized groups, people with disabilities, women and people from the LGBTQ2S community, to achieve an employee demographic profile reflective of the demographic profile of Ontarians.
The OSC is a proud partner with the following organizations: BlackNorth Initiative , Canadian Centre for Diversity and Inclusion , and Pride at Work Canada
If you require an accommodation during the recruitment process, please let us know by contacting our confidential inbox HRRecruitment@osc.gov.on.ca .   
Visit  Accessibility at the OSC   to review the OSC's policies on accessibility and accommodation in the workplace.