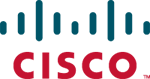 Cisco has shaped the Internet by creating unprecedented value and opportunity for our customers, employees, investors and ecosystem partners and has become the worldwide leader in networking - transforming how people connect, communicate and collaborate.
COMMITMENT TO DIVERSITY
Inclusion and Diversity is an important business priority for Cisco. It seeks to attract and develop diverse talent with the aim of exposing employees to new opportunities that break down geographic, cultural and functional boundaries and achieving a more globally competitive workforce. This inclusive culture promotes a creative, innovative and collaborative environment that helps fuel Cisco's business and drive value for its customers and partners. Pride at Work Canada is a strong partner in achieving these aims in the Canadian landscape.
VISION FOR THE FUTURE
Cisco believes community belongs to everyone, and connecting and collaborating with others is a key element of its culture. Making the world a smaller place through technology and using it to enhance life experiences is something they take seriously. While market transitions evolve and change over time, the components of Cisco's culture remain consistent. For these are its core values, the basis of all they do – and the spirit in which they do it – and are embraced with the intention of customer success and positively contributing to the world and others.

Cisco is committed to creating an inclusive climate that embraces gay, lesbian, bisexual, and transgender (GLBT) individuals as part of the Cisco family and values them for their contributions to the company and their local and global communities.

David De Abreu
VP Services
Executive Sponsor
Inclusion and Diversity