In consultation with our partners our Toronto Trans, Non-Binary and Agender Networking Breakfast has been postponed (TBA). Visit our COVID-19 strategy special page and online programming calendar.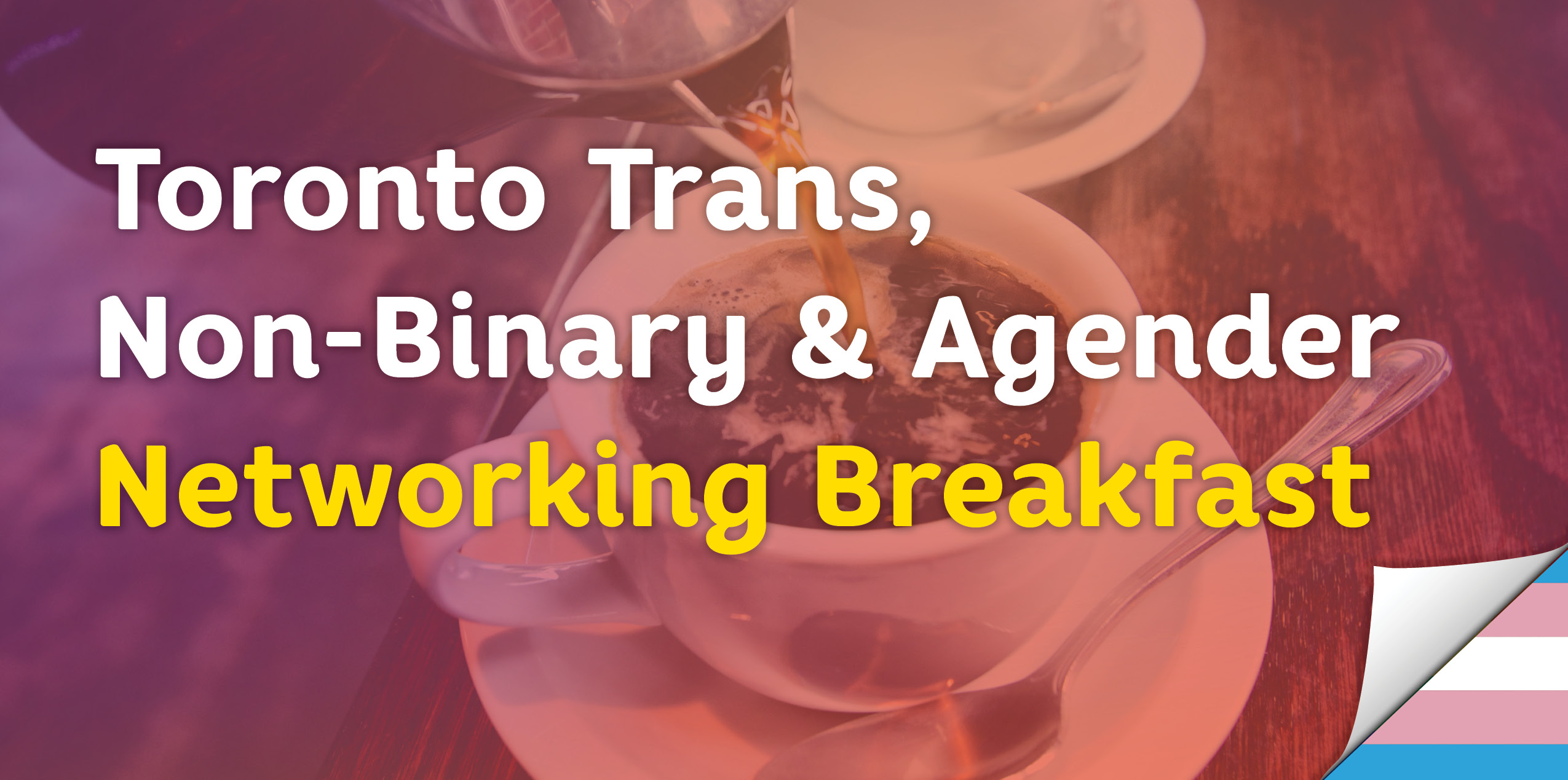 March 25, 2020 – 7:30 am – 9:30 am
Pride at Work Canada is proud to support a free networking event dedicated to trans, non-binary and agender professionals and jobseekers! This event will take place from 7:30-9:30am in a private dining space at the Marché Movenpick located in Brookfield Place at 181 Bay Street. Based on feedback at our first event in November, we will have more structured networking activities from 8am-9am, with casual networking on either end. Attendees are welcome to come and go as they please throughout the two-hour event, enjoy complimentary breakfast and network with one another.
Why is this event taking place?
While many events and networks are inclusive of trans, non-binary and agender people there are questions and discussions unique to these community members and their experiences. The organizers seek to create space for professional and job-seeking trans, non-binary and agender people to find support from and make connections with one another. They hope to be responsive to the needs and suggestions expressed by those who attend as they shape future events.
Who should attend?
The purpose of this event is to provide space for folks who identify as trans, non-binary and agender. There is no desire to monitor anyone's gender or create barriers to entry. If you come to this event you will be welcome. While the support of people who identify as allies to trans people and communities is always appreciated please remember that the best support sometimes comes in the form of leaving space for people to connect around their shared identities and lived experiences.
Who can answer my questions about the event?
Please direct questions about this event to Beck McNeil at beck.mcneil@prideatwork.ca. You may also contact info@prideatwork.ca with questions about any Pride at Work Canada events and activities.
I'm sold! How can I attend?
Please register below before Thursday, March 19, 2020 so we can prepare your name tag. Upon arrival attendees will have the option of adding their pronouns to these tags as well as share their preferences regarding photography at the event.
Washrooms
Marché Mövenpick has men's and women's multi-stall washrooms. There is a public all-gender/accessible washroom in the concourse level (one floor below) of Brookfield Place, which for security is locked and requires a remote buzz from security desk for entry. Attendees are welcome to use any washroom in which they feel comfortable, and may ask for accompaniment by an event organizer. We strive to create inclusive events, and will prioritize a more inclusive space for future breakfasts.
Registration for this event has closed.