Tuesday, June 22, 2021, from 10 am to 6 pm EDT (up to your schedule availability) – this event is exclusive for employees of our Proud Partners and Community Partners.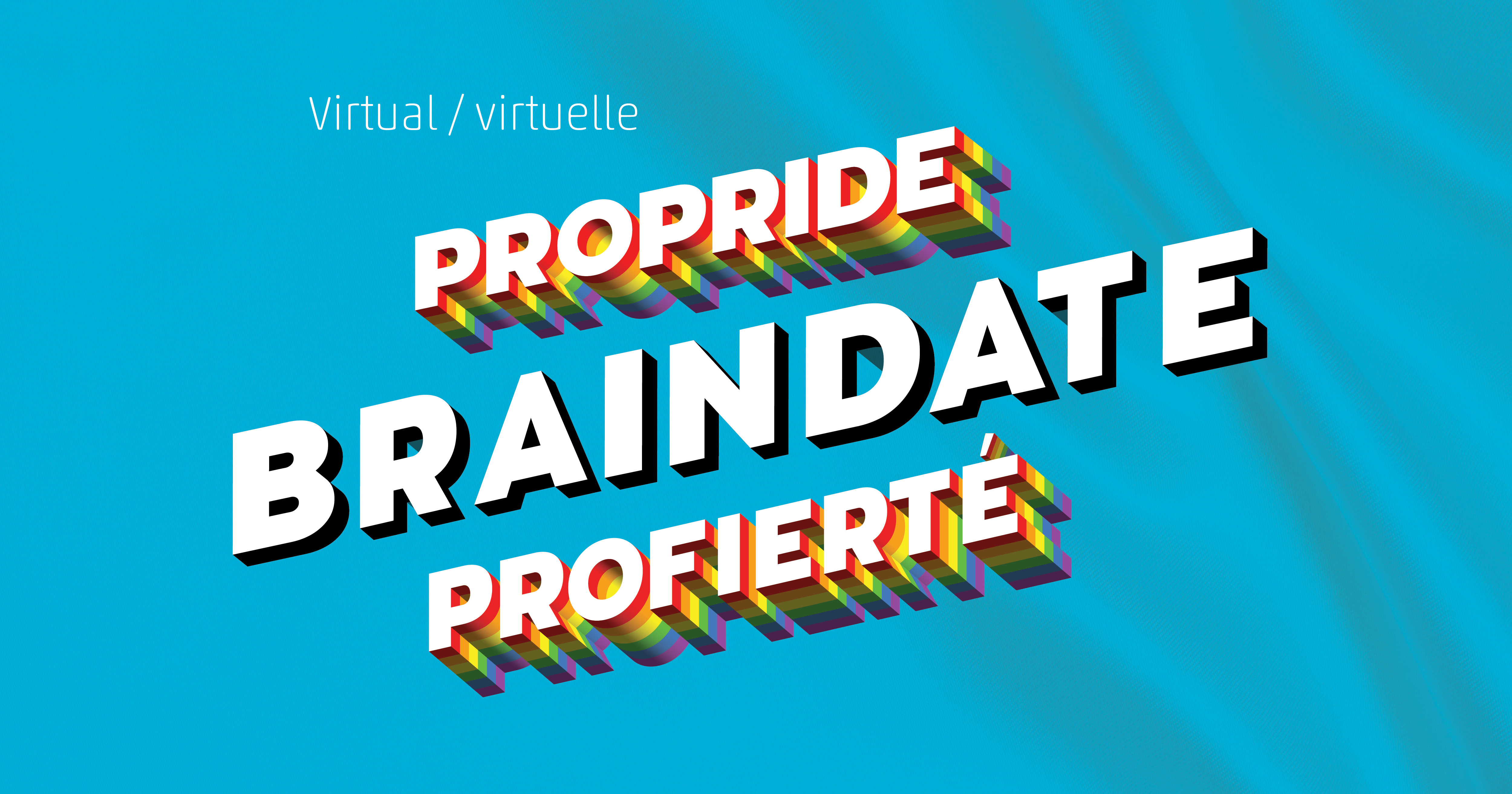 Pride at Work Canada is proud to have the support of Desjardins for this event.

This event is in collaboration with Braindate – e180.

Tired of missing out on webinars because they don't suit your schedule or don't accommodate your time zone? Pride at Work Canada's ProPride Braindates provide the opportunity to meet & learn from each other through meaningful conversations on your schedule.
Thanks to Braindate technology, join us on June 22 to network with inclusive professionals from across Canada . Bringing together representatives of Pride at Work Canada's Proud Partner and Community Partner network we can share best practices from coast to coast.
These individual or group Braindates between participants will be created according to what you can teach or what you want to learn, and of course, on your schedule! On the Braindate platform, you will be able to list topics related to diversity, equity and inclusion that you want to know more about or the knowledge you want to share.
Join us in exploring this new way of networking to create more inclusive workplaces.
What is a braindate?
Virtual braindates are knowledge-sharing conversations that you book with others to have one-on-one or in small groups (via video chat), on the Braindate platform. They're the best way to connect with, learn from, and have terrific conversations with new people—all virtually.
Here's what to do:
Log into Braindate to create your profile: details will be sent by email
Explore the Topic Market: participants (and you, too!) post braindate topics here related to discussions they'd like to have with others during the event. You can invite anyone to meet based on their topic!
Create topics: post braindate topics about discussions you'd like to have. This is your opportunity to share your knowledge, experiences, and expertise!
Book your braindates: send invitations to meet others to discuss their topics, and accept the invitations you receive. Once confirmed, your braindates will take place virtually right on the platform.
Get started!
What is Braindate? from e180 on Vimeo.
We're here to help! About virtual learning concierges
Would you like advice on how to create a compelling braindate topic? Are you having trouble finding topics that are relevant to you? Do you have questions about how to use the Braindate platform?
We can help. At ProPride Braindate ProFierté, Virtual Learning Concierges (real humans – no bots here!) will be on call to support you in making the most out of your experience. Don't hesitate to connect with one of them on button links.
They will be available: by Monday, June 21.
How to host a meaningful braindate?
Braindates are not presentations, they are conversations that stem from a shared interest.
Whether it's a one-on-one or group braindate, keep the following 5 tips in mind to lead a meaningful braindate for everyone involved:
Make sure everyone introduces themselves and contributes to the discussion.
Ask the participant(s) what interested them about the topic.
Be transparent and honest about your own experience related to the topic: You don't need to be an expert to lead a braindate.
Don't forget that everyone has something interesting they can add to the conversation: Adopt a beginner's mindset.
Don't forget to share contact information. Many great relationships started with a simple conversation.
Limited number of participants.
Please register by Sunday, June 20. For this event specifically, we won't accept late registrations. This event is exclusive for employees of our Proud Partners and Community Partners. Please send an email to info@prideatwork.ca if you have any questions.
Registration for this event has closed.