Production Supervisor – Night Shift (3×12) – Thursday to Saturday – 5:00pm to 5:00am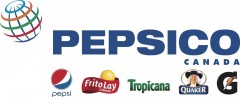 City : Calgary
Category : Supply Chain
Industry : Food and Beverage Industry
Employer : PepsiCo Canada
Overview
PepsiCo is a playground for curious people. We invite thinkers, doers, and changemakers to champion innovation, take calculated risks, and challenge the status quo. From executives to team members on the front lines, we're excited about the future. We take chances. Together, we dare to make the world a better place.
Our associates are the magic ingredient. Each of them plays an integral role in helping create deep connections between people and our products. Think about your last group celebration: Chances are, one of our iconic brands was by your side. At PepsiCo, you're invited to be a part of a global team of innovators who make, move, and sell these products—which are enjoyed by more than 1 billion people a day.
A career at PepsiCo means working in a culture where everyone's welcome. Here, you can dare to be yourself. No matter who you are or where you're from, you can influence the people around you and the world at large. By showing up, you'll have the opportunity to learn, develop and grow your skills for the future. Our supportive teams can fuel your professional goals to make a global impact on people and the planet.
Join us. Dare for Better.
Responsibilities
This position contributes to the success of PepsiCo Beverages Canada by directing the production team to meet customer needs and achieve standards related to cost, line efficiencies, waste, safety and productivity. This individual must set production performance standards and align the organization to achieve standards.
Major Tasks, Key Responsibilities and Key Accountabilities:
Applies knowledge of processes, equipment and system capability to set challenging individual and facility standards.
Develops Annual Operating Plan for Production
Achieve performance standards with regards to safety, line utilization and quality
Tracks key performance indicators/costs, anticipating and correcting trends which would compromise achievement of financial targets
Oversees and assures facility equipment reliability to minimize downtime
Builds people capability through effective employee relations, hiring, training, and communication for front-line hourly personnel
Ensures compliance with all Health & Safety regulations
Shows demonstrated computer proficiency: Microsoft Suite
Demonstrated ability to function successfully in a fast paced, changing work environment.
Qualifications
Qualifications/Requirements:
A minimum of 2 years of Operations or Logistics experience
Ability to work a flexible schedule including early mornings, evenings and/or weekends
Demonstrated planning and organization skills
Demonstrated front-line supervisory skills
Experience in consumer packaged goods or a related industry a plus