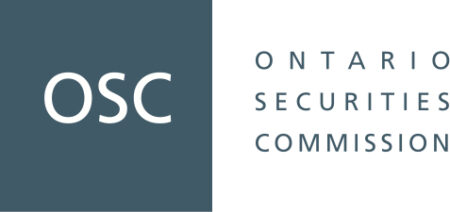 City : Toronto
Category : See Posting
Industry : Financial Services/Government
Employer : Ontario Securities Commission
Legal Counsel II
Compliance and Registrant Regulation Branch
Permanent, Full-Time
File # 22-184

Who We Are
The Ontario Securities Commission (OSC) is the statutory body responsible for regulating Ontario's capital markets in accordance with the mandate established in the provincial Securities Act and the Commodity Futures Act. The Commission's mandate is to provide protection to investors from unfair, improper or fraudulent practices, to foster fair and efficient capital markets and confidence in capital markets, to foster capital formation and to contribute to the stability of the financial system and the reduction of systemic risk. This mandate is performed through policy, operational, adjudication and enforcement work. The OSC also contributes to national and global securities regulation development.


We offer an inclusive, diverse, fair and flexible work environment and take pride in our challenging and rewarding work.


What We Do
The Compliance and Registrant Regulation (CRR) Branch oversees the dealers, advisers and investment fund managers that the public relies upon when investing in securities. Using a risk-based approach, CRR focuses on initial and ongoing registration and compliance reviews of registrants. CRR also develops significant policy/legislative initiatives affecting registered firms and individuals, at both the Ontario and national levels. The branch consists of integrated, multi-disciplinary teams including professional staff (chartered accountants and lawyers), registration officers (corporate and individual), and support staff.
CRR is currently hiring for a permanent, full-time Legal Counsel to join their team.
Key Duties and Responsibilities
Reporting to the Manager, the Legal Counsel will work on advising on the registration regime in Canada in National Instrument 31-103 Registration Requirements and Exemptions and related instruments; recommending decisions in response to applications for exemptions from registration requirements under the Securities Act and the Commodity Futures Act; acting as a legal resource on registration and compliance issues to other staff and industry participants; participating in the development of significant policy/legislative initiatives affecting registrants, at both the Ontario and national levels. The Legal Counsel position will also participate in compliance reviews of registrants to determine if they are in compliance with securities laws, and negotiate effectively with Canadian Securities Administrators (CSA), government and stakeholders to reach a resolution on issues.
Qualifications for Success
A membership in good standing with the Law Society of Ontario

Minimum 5 years relevant securities/industry experience post call to the Bar

A strong understanding of the securities industry and securities legislation with a good understanding of the exempt market and exempt market dealer operations

Demonstrated proficiency in balancing regulatory objectives with practical business considerations

Demonstrated ability to analyze complex problems and develop creative recommendations

Ability to communicate ideas clearly and concisely

Excellent research and legal drafting skills including experience drafting legislation, rules or other regulatory instruments

Strong analytical thinker able to work independently and as part of a multi-disciplinary team of professionals

Demonstrated ability to establish collaborative working relationships and engage with internal and external stakeholders

Demonstrated ability to coordinate various aspects of projects and policies with appropriate staff within the organization
Grow your career and make a difference working at the OSC!

Apply online by March 30, 2023 at 11:59 pm EST.

**Internal applicants: please apply using the Taleo profile created with your OSC email address**

We thank all applicants for their interest in the Ontario Securities Commission. We will contact those selected for an interview.


The OSC is committed to diversity and providing an inclusive workplace. It is our priority to ensure employment opportunities are visible and barrier-free to all under-represented groups including but not limited to, Indigenous, Black and racialized groups, people with disabilities, women and people from the LGBTQ2S community, to achieve an employee demographic profile reflective of the demographic profile of Ontarians.


The OSC is a proud partner with the following organizations:  BlackNorth Initiative ,  Canadian Centre for Diversity and Inclusion , and  Pride at Work Canada.


If you require an accommodation during the recruitment process, please let us know by contacting our confidential inbox  HRRecruitment@osc.gov.on.ca .  


Visit  Accessibility at the OSC  to review the OSC's policies on accessibility and accommodation in the workplace.