IT Client Support Specialist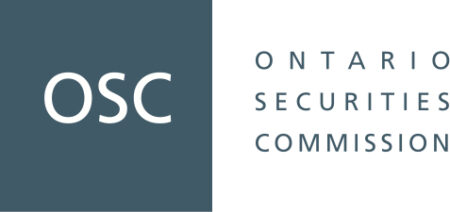 City : Toronto
Category : See Posting
Industry : Financial Services/Government
Employer : Ontario Securities Commission
IT Client Support Specialist
Information Services Branch
Permanent, Full-time
File #22-183


The Ontario Securities Commission (OSC) is the statutory body responsible for regulating Ontario's capital markets in accordance with the mandate established in the provincial Securities Act and the Commodity Futures Act. The Commission's mandate is to provide protection to investors from unfair, improper or fraudulent practices, to foster fair and efficient capital markets and confidence in capital markets, and to contribute to the stability of the financial system and the reduction of systemic risk. This mandate is performed through policy, operational, adjudication and enforcement work. The OSC also contributes to national and global securities regulation development.

We offer an inclusive, diverse, fair and flexible work environment and take pride in our challenging and rewarding work.


The IT Client Support Specialist provides technical support services to the OSC end-users in a timely, effective and professional manner.  We are looking for an IT Support Specialist who brings a dynamic, innovative approach to their work, and who takes the initiative to solve not just technical, but also business problems.
Responsibilities include the provision of excellent customer service by responding promptly to technical support and service requests and communicating with clients in an easy-to-understand, clear, concise, and persuasive manner while exercising patience, empathy and respect. Additionally, the IT Client Support Specialist will be called on to provide effective training to clients on the use of software, computer systems and peripherals, while adapting to different skill levels and learning styles, and relaying technical information in common language.
Additional duties include the installation and configuration of OSC workstations, printers, scanners and mobile devices as well as third-party software and custom developed applications; preparation of technical documentation and reports on problems and solutions; participation in hardware and software rollouts; investigation and troubleshooting of  various hardware, software and networking-related issues, and the provision of assistance with IT procurement, including product research, updating inventory and record-keeping.
Qualifications:
Our ideal candidate possesses a 2-year diploma in Computer Science or related program from a community college or equivalent, as well as directly related experience in an IT environment and demonstrated technical expertise in various areas of technology, including a thorough knowledge of MS Windows 7, expertise in MS Word, Excel, PowerPoint and Outlook, hands-on knowledge of Lotus Notes Client 8.5 and experience working with Notes databases, as well as experience supporting iPhones, tablets and other mobile devices and a working knowledge of Active Directory. Experience working with incident tracking software and the ability to learn new technologies quickly will support success in this role, as will leadership skills and the ability to work well both independently and as a valued member of a team.


Grow your career and make a difference working at the OSC.

Apply online by March 30, 2023 at 11:59 pm EST.

**Internal applicants: please apply using the Taleo profile created with your OSC email address**

We thank all applicants for their interest in the Ontario Securities Commission. We will contact those selected for an interview.


The OSC is committed to diversity and providing an inclusive workplace and providing accommodation in accordance with the Accessibility for Ontarians with Disabilities Act and the Human Rights Code. It is our priority to ensure employment opportunities are visible and barrier-free to all under-represented groups including but not limited to, Indigenous, Black and racialized groups, people with disabilities, women and people from the LGBTQ2S community, to achieve an employee demographic profile reflective of the demographic profile of Ontarians.

The OSC is a proud partner with the following organizations: BlackNorth Initiative, Canadian Centre for Diversity and Inclusion, and Pride at Work Canada.

If you require an accommodation during the recruitment process, please let us know by contacting our confidential inbox HRRecruitment@osc.gov.on.ca.  

Visit Accessibility at the OSC to review the OSC's policies on accessibility and accommodation in the workplace.