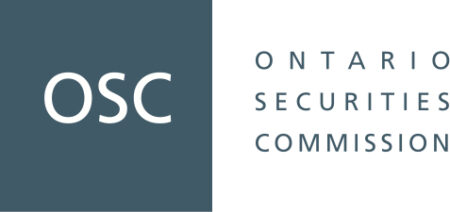 City : Toronto
Category : See Posting
Industry : Financial Services/Government
Employer : Ontario Securities Commission
Investigation Counsel II
Enforcement Branch
Permanent, Full-time
File #23-16

Who We Are

The Ontario Securities Commission (OSC) is the statutory body responsible for regulating Ontario's capital markets in accordance with the mandate established in the provincial Securities Act and the Commodity Futures Act. The mandate of the OSC is to provide protection to investors from unfair, improper or fraudulent practices, to foster fair, efficient and competitive capital markets and confidence in the capital markets, to foster capital formation, and to contribute to the stability of the financial system and the reduction of systemic risk. This mandate is performed through policy, operational, adjudication and enforcement work. The OSC also contributes to national and global securities regulation development.

We offer an inclusive, diverse, fair and flexible work environment and take pride in our challenging and rewarding work.


What We Do
The Case Assessment Team of the Enforcement Branch supports the OSC in delivering fair, vigorous, and timely enforcement.  
Working in a fast-paced, results oriented environment, the Investigation Counsel is responsible for identifying varied and serious breaches of Ontario securities law, conducting necessary inquiries, analyzing the evidence obtained, and making recommendations for appropriate next steps. Using your subject-matter expertise in securities legislation and administrative law as well as your experience with investigative best practices, you will formulate strategies for effective and timely assessments and provide legal advice to other staff regarding assessments. You can expect to deal at times with novel issues and/or high-profile cases as a key member of the team.     
The initial assessment supports the Enforcement Branch's function of investigating and litigating breaches of securities laws in Ontario. Team members work closely with other securities regulators, self-regulatory organizations, and law-enforcement agencies to enhance initiatives to address misconduct.  A strong enforcement presence is key to furthering the Commission's mandate including in particular to protecting investors from unfair, improper, or fraudulent practices and fostering fair and efficient markets.  

What's in it for you?
Assess a wide variety of different securities law matters often involving complex facts and raising novel and challenging legal and investigatory issues.

Have the opportunity to work independently with guidance and support leveraging a mix of traditional investigative techniques, analytical tools, and open-source intelligence analysis.

Work in a collaborative, progressive, and professionally diverse team.

Make a difference and have a meaningful impact on investors and participants in Ontario's capital markets.

What will you do?
Review initial information, identify possible breaches of Ontario securities law, consider potential issues, and prepare an inquiry plan.

Make relevant inquiries, obtaining and reviewing information and documents from internal databases and records as well as a variety of external sources on a voluntary and compelled basis including the Internet and social media and obtaining documents and conducting interviews of witnesses.

Prepare and serve s. 19(3) directions, s. 11 summonses, and other legal documents, as needed.

Identify legal issues, conduct legal research and analysis, and provide legal advice to a multi-disciplinary team of professionals.

Work independently to establish priorities, identify critical tasks, and advance assessments forward in a timely manner, collaborating with colleagues as needed.

Organize, analyze, and synthesize information obtained using applicable available technological tools, identifying opportunities to leverage data analytics.

Keep management informed about the scope of the assessment, key developments, and resources needs.

Prepare a recommendation report, exercising professional judgment as to the appropriate action.

Liaise with other regulatory and law enforcement agencies as needed.

Lead or participate in special Enforcement projects and initiatives as needed, providing advice regarding policy matters affecting the Commission's mandate to enforce Ontario securities law and perform other tasks as may be assigned.

What do you need to be successful in this role?
We are looking for someone who is committed to working to protect investors and foster confidence in our capital markets. You have your LLB/JD designation and an undergraduate degree in Business, Finance or equivalent. You have excellent analytical and communications skills, are knowledgeable about the capital markets and securities industry and have some experience in securities law as well as administrative law and/or criminal law. You have familiarity with administrative and/or criminal proceedings along the Securities Act, the Statutory Powers Procedure Act, and the Provincial Offences Act.  Completion of the Canadian Securities Course and other related courses would be an asset.
Candidates for the Investigation Counsel position must have a minimum of 5  years of legal experience. To be considered, you are a lawyer in good standing with the Law Society of Ontario and have extensive experience in conducting investigations and inquiries independently, preferably in securities-related matters and/or regulatory matters. You have worked with data analysts, eDiscovery platforms, and open-source intelligence. To build and maintain strong and effective working relationships with multiple stakeholders while managing the expectations of competing interests, you have excellent interpersonal and communication skills. Your diplomacy, tact, and professional communication skills will support you in this role which requires problem-solving in a thoughtful and responsive manner that considers the various stakeholders and their interests.

Offer of employment conditional subject to successful completion of security check.

Grow your career and make a difference working at the OSC.
 
Apply online by May 29, 2023 at 11:59 pm EST.

**Internal applicants: please apply using the Taleo profile created with your OSC email address**

We thank all applicants for their interest in the Ontario Securities Commission. We will contact those selected for an interview.
 

The OSC is committed to diversity and providing an inclusive workplace and providing accommodation in accordance with the Accessibility for Ontarians with Disabilities Act and the Ontario Human Rights Code. It is our priority to ensure employment opportunities are visible and barrier-free to all under-represented groups, including, but not limited to, Indigenous, Black and racialized groups, people with disabilities, women and people from the LGBTQ2S community, to achieve an employee demographic profile reflective of the demographic profile of Ontarians.

The OSC is a proud partner with the following organizations: BlackNorth Initiative, Canadian Centre for Diversity and Inclusion, and Pride at Work Canada
If you require an accommodation during the recruitment process, please let us know by contacting our confidential inbox HRRecruitment@osc.gov.on.ca.  

Visit Accessibility at the OSC to review the OSC's policies on accessibility and accommodation in the workplace.