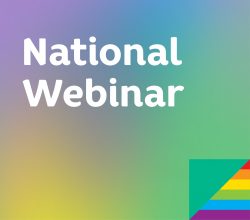 You can't tell someone's sexual orientation or gender identity by looking at them, so the language we use to describe our identities has always been important and somewhat complex. Even those who identify as members of the LGBTQ2+ community can lose track of the most current and appropriate terms as well as how to use them in various workplace situations.
This one-hour webinar will provide a quick review of inclusive language and terms and some examples of how they can be applied in internal and external communications as well as how to respectfully include questions about sexual orientation and gender identity in data collection processes.
This webinar is scheduled to take place from 12:00-1:00pm EST on Weds, Nov 22, 2017 via Webex. National and Regional Partners can register employees for the webinar by emailing Nicole Culp, Administrative Coordinator at nicole.culp@prideatwork.ca.