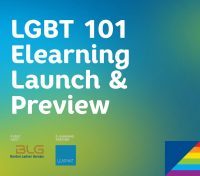 Give your workforce the foundational training needed to support an environment where everyone is able to be themselves with LGBT 101: History, Terms, & Phrases, a 30-minute self-paced elearning course from Pride at Work Canada, powered by Learnkit.
Join us for the launch of this exciting new tool on the morning of May 4, 2017. Learn about the instructional design for LGBT 101, course curriculum and options for rollout in your organization at this interactive session hosted by Borden Ladner Gervais LLP.
Please register before Tuesday, May 2, 2017 to attend. Space is limited. Contact info@prideatwork.ca for more information.
For more information about Pride at Work Canada's elearning courses visit education.prideatwork.ca.
Registration for this event has closed. If you're still interested in registering, please email Nicole at nicole.culp@prideatwork.ca.