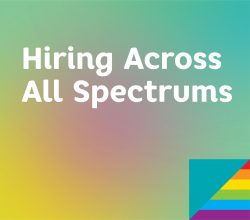 Canadian employers are working harder than ever to message their support for inclusion and are taking steps to remove obstacles for LGBTQ2+ jobseekers. However, many members of the community continue to face significant obstacles across many industries.
Attendees of this special launch event will get an advanced look at the recommendations outlined in Hiring Across All Spectrums, Pride at Work Canada's new report on recruitment, hiring and bringing down barriers to employment for LGBTQ2+. A panel of experts will highlight some of the most common impediments experienced by LGBTQ2+ jobseekers and discuss ways employers can address them with substantive action. An interactive portion where participants will be guided to create an inclusion strategy specific to their workplace will finish off this morning of learning and sharing.
Location: The 519
519 Church Street, Toronto ON M4Y 2C9
For more information about this event please contact Joe McNamara, Operations Manager at jo.mcnamara@prideatwork.ca.
Please register for the event below:
Registration for this event has closed.